Expedition India with Daniel Rintz
Due to the ongoing pandemic and the fact that India is one of the most effected countries, we decided to postpone our tour-offer "Himalaya Expedition" to 2022. At this point, we are unable to make reservations for accommodation and flights. We are still very keen to pull this adventure off. If you are interested in participating in this tour in 2022, please send us a message and we'll put you on our waiting list. Thank you.
When you ask someone who's been everywhere: "What's the most beautiful motorcycle route in the world?", you might hear: "Great Ocean Road in Australia" or "Carretera Austral in Patagonia". We interviewed globetrotter Daniel Rintz (Open-Explorers) and without hesitating, he replied, "Through the Himalayas in northern India!"
Quote: "After six years of riding, we achieved our dream - circumnavigating the world by motorcycle. Ninety-nine countries in, we have a few stories to tell."
100% enforcement of warranty
All you need to bring is your motorcycle riding gear (helmet, jacket, boots). Everything else is included: accommodation, three meals a day, snacks, the flights from Frankfurt to New Delhi and back, the flight from Amritsar to Delhi, motorcycle rental, gasoline, drinking water, permits for all regions we're going through, Daniel as the tour guide, two backup vehicles with mechanic, medic and spare parts. Your luggage will be carried on one of the 4x4s so you don't have to carry it on the bike.
Bitte akzeptieren Sie funktionelle Cookies um den Inhalt zu sehen.
THE HIGHEST OF HIGHS
ALMOTO Motorrad Reisen has been offering guided tours in Europe and Morocco for over 15 years. Daniel Rintz has been exploring the world by motorcycle, bicycle, train and van on and off for a total of ten years. Together, Daniel and ALMOTO offer you a unique blend of pure adventure and the know-how of a professional tour guide operator.
Together we will fly from Frankfurt, Germany to New Delhi in India. In addition to riding on the left side of the road, we must engage in what may be chaotic and unpredictable traffic in the eyes of most Europeans. To avoid the thick of it, we will take a chartered bus from New Delhi to Ambala (220km). There we will receive our bikes and get used to the local traffic conventions cruising on more relaxed roads. Our faithful companions will be legendary Royal Enfield motorcycles, affectionately called "Bullet" by the locals.
From the hot fertile Ganges plain, we meander up to the highest mountains in the world. Through the mystical Spiti Valley, over several spectacular mountain-passes to Leh, the cultural centre of the Ladakh region. The sign on top of the Kardhung La pass promises to be the "highest navigable place in the world". We will witness the beauty and purity of the mesmerising Himalayas.
The clear mountain air and the picturesque Buddhist monasteries release energy which assists the travellers in connecting with their spiritual side. The landscapes will be as unique as the Indian cuisine is diverse. The number of turns will compete with the number of photo opportunities. Daniel believes the cultural peculiarities of the region, the spectacular nature and the charisma of the prudent mountain population will have a lasting effect on you.
In Srinagar, also known as the "Venice of the East" we will spend the night on luxurious houseboats with ornate verandas. Returning to the lowlands, we'll reach the city of Amritsar and visit the "Golden Temple" which is the holiest site for the Sikh. A quick side tour to attend the exhilarating Wagah border closing ceremony is also on the list. Experience one of the world's best motorcycle rides and be part of an adventurous group. For every member, it is bound to be a powerful, personal experience.
MAGNIFICENT, UNIQUE AND ADVENTUROUS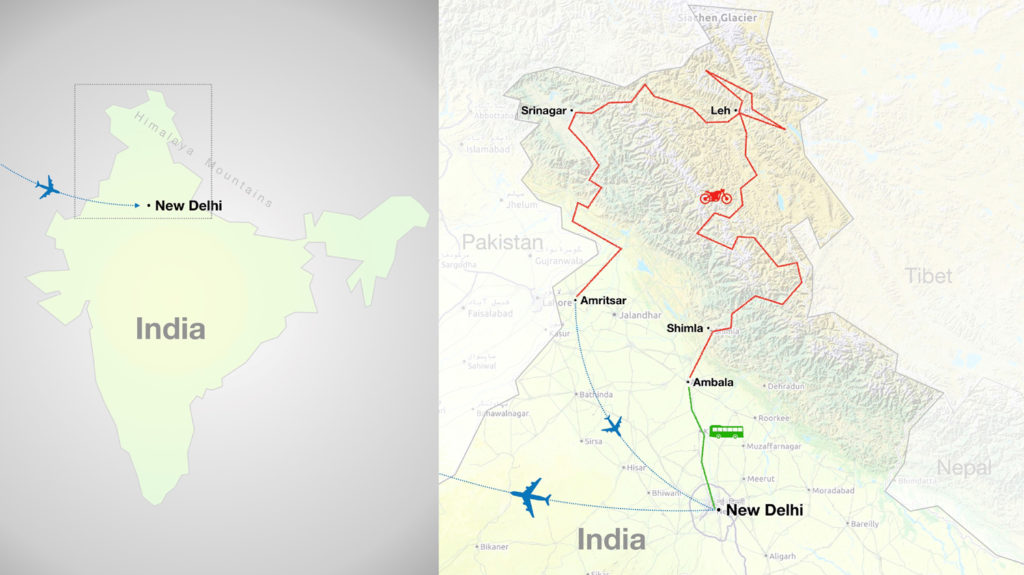 ALMOTO got to know Daniel as a very likeable, attentive and humorous fellow. We are convinced that you will benefit from his experiences as well as from his inclination to help you have the best possible trip. Meet him at eye level and pick his brain for valuable tips.
We have undertaken elaborate preparations and planning, yet unexpected challenges may arise. We have to be prepared for the unexpected like landslides, political unrest and quickly changing weather conditions. Overcoming and growing on these hurdles will elevate you from being a mere tourist to becoming an avid traveller. Along with a handpicked Indian team, adventurer Daniel Rintz will guide the group through this rich experience and, where necessary, help deal with challenges. He and his team are ready to react in the interests of the group at any time.
REQUIREMENTS
When Daniel rode this route in 2009, about two-thirds of the way was paved. The off-road sections varied from mud to gravel and sand. Reports from recent years show that the entire route has been paved. That does not guarantee that we can roll on asphalt all the way. The region is prone to landslides and erosion by ice and snow. Some day trips take us off the regularly maintained main routes. This means that off-road fans get their money's worth and those who are not looking for extra challenges have the chance to circumnavigate the worst of it. However, ALMOTO recommends that riders without any Enduro experience either refrain from participating in this tour or undergo some comprehensive training in preparation of the trip.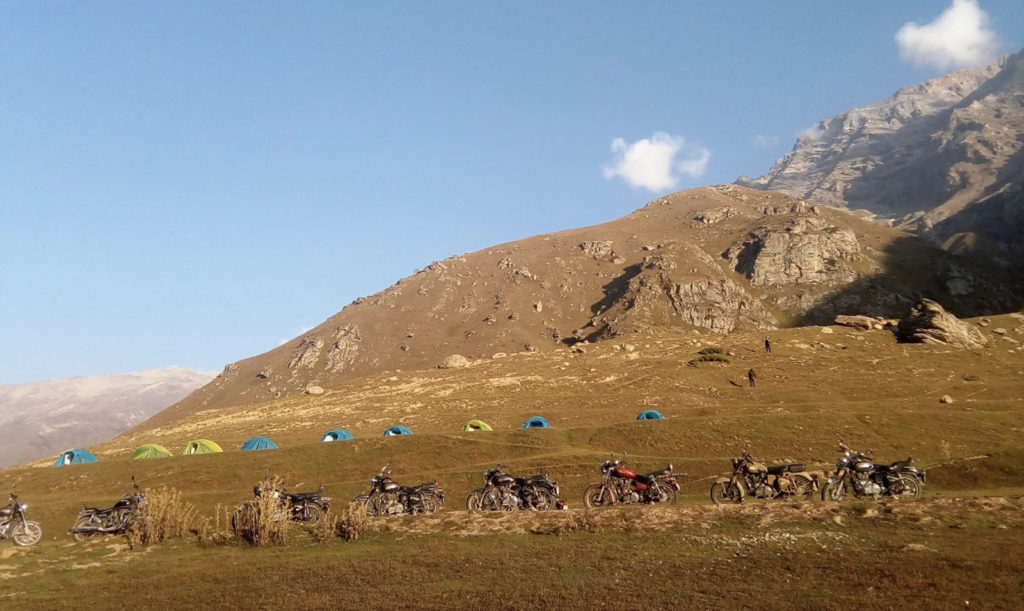 Daniel promised us that no specific fitness level is needed to participate in this adventure. You should be healthy though. Note that it will be sweltering and humid in the low lands and snowfall is possible in the mountains, even in August. The foreign cuisine, the many new impressions and the extreme altitude will have to be handled. Studies show that there is no correlation between fitness and the susceptibility to altitude sickness, but we recommend that you consult a doctor if you're unsure.
SUMMARY
Total riding distance: 2600 kilometers/ 1650 miles
Start and End of this tour: Frankfurt/ Main - Germany
Price per rider: 7900 Euros
Single room surcharge: only on request
The group is limited to ten riders.
We will be happy to assist you going through the booking process as our system is limited to only one language setting. Alternatively we recommend using the Google Chrome web-browser. Its build-in feature lets you translate our entire website on the fly.
ADDITIONAL INFORMATION
After booking you will receive a comprehensive info-package on the following topics: Entry requirements, medical advice and recommendations, in particular for acclimation (altitude sickness), passport and visa requirements, driver's license, cell phone reception and alternatives, cash, customs regulations ...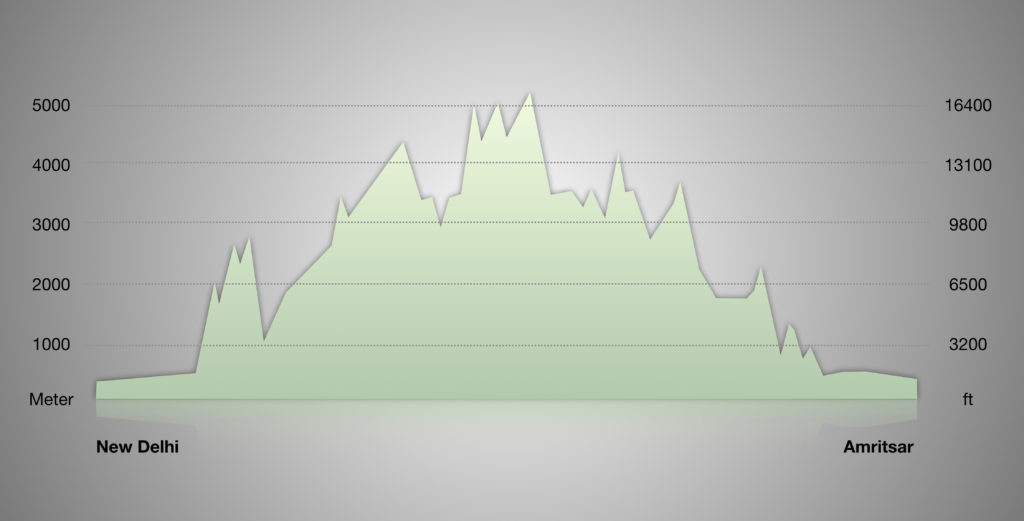 ACCOMMODATIONS
For this trip, we have meticulously selected the most suitable hotels and guest houses in cooperation with our Indian collaborators. There will be some nights that we will spend in "Adventure Camps", tents with only basic commodities. This tour is only suitable for those who would like to experience a "pure version" of adventure travel. Candles replace electrical light. Face-to-face conversations replace wi-fi and social media. Running water comes directly out of canisters. And single rooms we can offer only on request.
Closing date for bookings is 1st of May 2020.
31.07.2021 - 22.08.2021

abgesagt

We will be happy to assist you going through the booking process as our system is limited to only one language setting. Alternatively we recommend using the Google Chrome web-browser. Its build-in feature lets you translate our entire website on the fly.
Tourguide: Daniel Rintz